The vision for the 1st Black College that wouldn't be
College for Colored Youth in New Haven, CT


According to UNCF (the United Negro College Fund
,) the first HBCU was and is Cheney University of Pennsylvania. It was founded in 1837 as the Institute for Colored Youth. It moved from Philadelphia to the George Cheney farm 25 miles west of Philly in 1902.
What if I were to tell you that Cheney was not the first attempt at creating a college for African Americans. I was shocked to find out that in 1831 there was a proposal to build a college for African Americans in New Haven, CT along side the prestigious Yale University.
That's a full six years before the Formation of Cheney University.
The man with the vision was Simeon Jocelyn, a local pastor together with a lawyer out of New York, Arthur Tappan and others.
Simeon Jocelyn attended Yale briefly in 1823
. He writes in the "New Haven Advertiser" on October 4th that he had come up with the idea of a Negro or "African College" two years before a City meeting in 1831.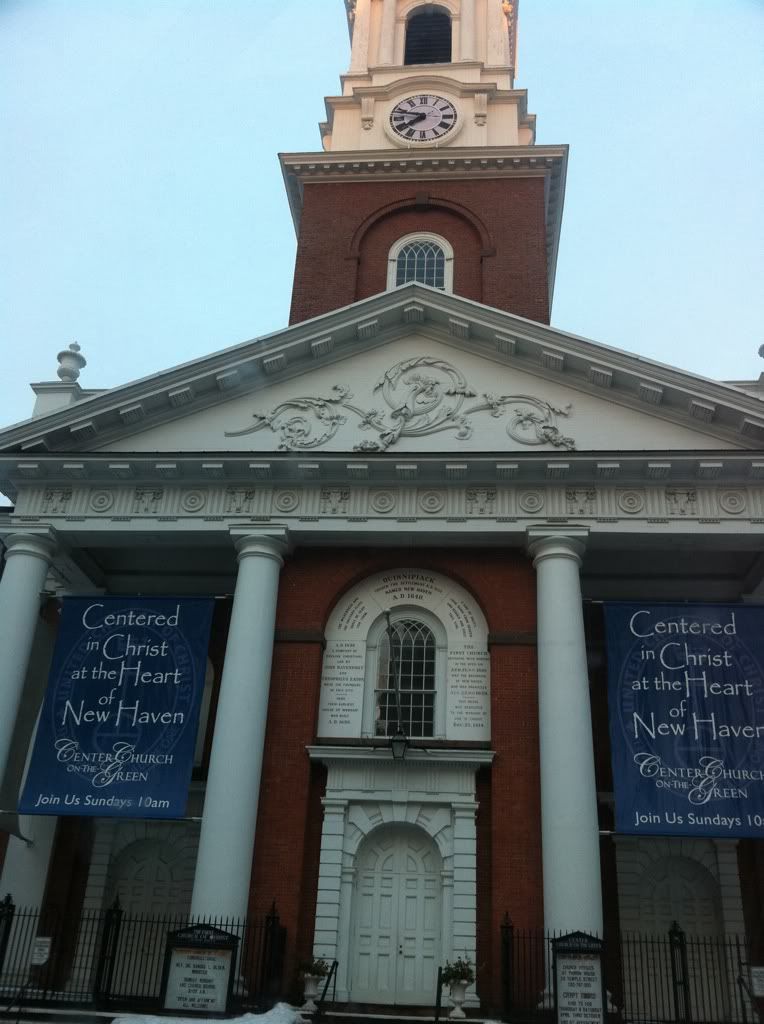 New Haven's Center Church on the Green and the site for the city meetings in 1831
But he says it only started to take shape earlier in that year (May 1831.) He says went to New York to meet with some black men who were educated and preparing to build a black high school. He also found that there were men who wanted to go to college but the only college that would accept them was in Maine. Jocelyn urged them to build a college instead. The men dropped their plans for a high school and focused on a College. After that meeting Jocelyn was urged to go to Philadelphia for the "Convention of Colored People of the United States." It was there where support grew even stronger for Jocelyn's idea.
They talked about a college to
"cultivate habits of industry and obtain a useful mechanical or agricultural profession, while pursuing classical studies" and "where our youth may be instructed in all the arts of civilized life." Jocelyn
was given more funding and urged to return to New Haven to present his plan for a college and build it.
The plan was to build the college in the southern part of New Haven.. possibly in the Trowbridge section of town. Jocelyn and his business partner Arthur Tappan had even purchased the land and committed another $1,000
in seed money to the project. He returned to New Haven and brought the idea to his home church-- Center Church on the Green.
So, why did it fail? What I found disturbed and shocked me. I guess I thought New Haven, would have been a little more progressive thinking because of the "liberal" minds at Yale University.
In the little bit of research that I did on this subject, I found a booklet in Yale's online Beinecke Rare Book and Manuscript Library. Many of the newspaper clippings on the subject are one sided. And as they say hind sight is 20-20. At the time this idea was coming forth, the movement to free slaves in Great Britain was growing. The Slaves wouldn't be freed until August of 1834. In Connecticut there weren't any laws against slavery. There were laws denying blacks the right to vote and Slavery wasn't abolished in Connecticut until 1848. That's almost 15 years after Great Britain.
Even After buying the land for his "Negro College"
and getting support in Philadelphia, he returned to New Haven in September and got a much different reaction. That was September 7th. Immediately, a team was drawn up from New Haven's political elite and Yale's best minds to fight the "Negro College".
A copy of the warrant issued to Simeon Jocelyn after he announced his intentions to build an "African College"
A
On September 10th a special town meeting as called. YaleSlavery.org posted this clip from a commentary in the Newspaper:
"If it is necessary to have an African College in Connecticut, may the projectors of it, on mature consideration, conclude to locate it in the town of Cornwall ... Cornwall possesses many advantages for such an institution, over other places; and it is not among the least of them, that the ladies of that town readily give themselves, better for worse, and worse for better, to the colored gentlemen. This and other considerations may have a strong tendency to draw the proposed College to that town. We hope, therefore, that our citizens will act with coolness on this subject." -William Fowler 1874
Did you see that?-- the Ladies of that town readily give themselves.... to the colored gentlemen? Using google maps, I find that Cornwall is a good 54 miles from New Haven. That's an 1 hour 20 minute drive away or 5 and a half hour bike ride or a 16 hour walk.
The City's Resolution against building a Black College
The Vote was swayed hugely against building a Negro College. Only James Donaghe and Roger Sherman Baldwin (later the attorney for the Amistad captives) are known to have voted with him. The sole reason given-- "officially"-- in the resolution against building a college was to protect Yale University and other unnamed institutions. But, the description of the climate of the City meeting depicts a less civilized reason for rejecting the University. Many cities today still exist and thrive with multiple Universities in place. For Example, Florida A&M University and Florida State University;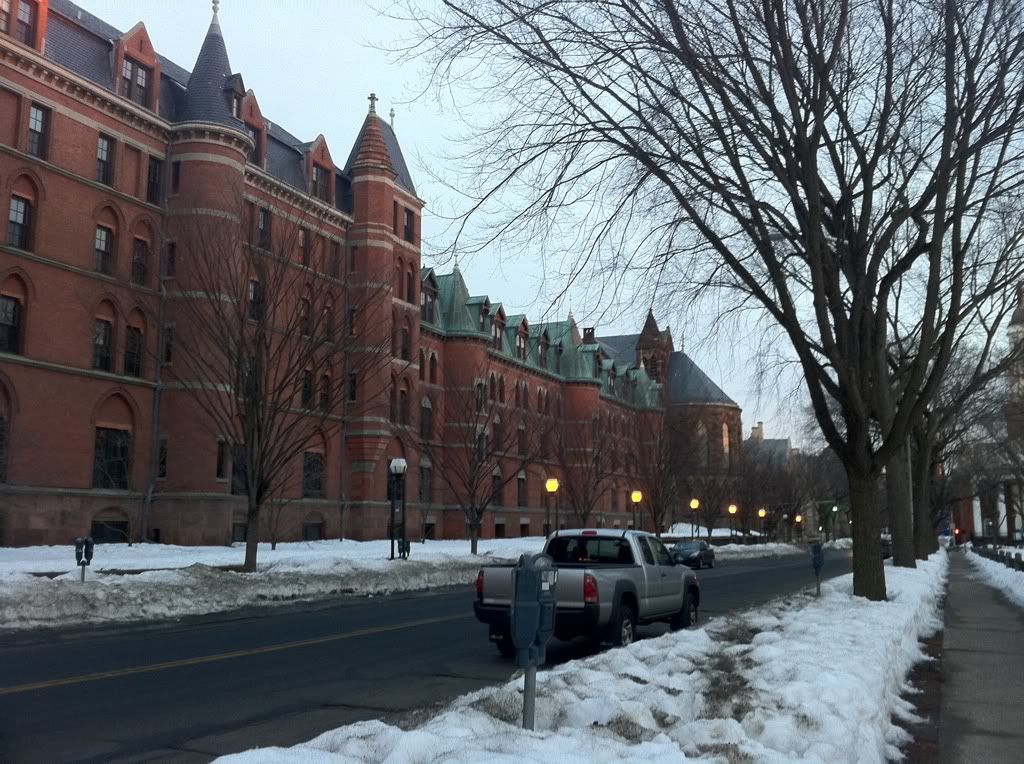 Yale's Old campus on College Street
Morehouse, Spellman and Georgia Tech; Howard University and George Washington University. The list goes on.
Jocelyn states that after the vote was taken and his idea shot down, he still received support from the community. Even a slave owner donated 100 dollars to the cause. The slave owner believed that educating his slaves before they were to be emancipated would be beneficial to him as a slave owner. He believed that it was the "desire for knowledge" that led slaves to escape, revolt and rise up against their slave holders.
Trowbridge Square, New Haven
The day after the meeting, Arthur Tappan's house was attacked.. and there were also attacks the next month in New Liberia. In 1834, Simeon Jocelyn, was forced to stop officiating at a church which would later become the Dixwell Avenue Congregational church.
Three years later, a mob attacked his home, but Jocelyn didn't leave the Elm City. He built a racially integrated neighborhood in what would later become "Trowbridge Square." Simeon Jocelyn and his brother, Nathaniel, served as "conductors" on the underground railroad.
It's interesting to see that the climate outside of New Haven was for largely for building a College in places like Maine, Boston and New York.
After this whole mess, on October 4th.. Jocelyn wrote to the New Haven Advertiser, hoping to fully explain why he had picked New Haven.
From Simeon Jocelyn to the New Haven Advertiser
I almost called this blog entry "Could'a, Would'a, Should'a." They could have built it, Should have built it and should have built it. Who knows, there could have been a Connecticut A&M or a Jocelyn University or maybe even a Tappan College.
Just imagine what this black college could have done for the mindset of the youth of our city. What it could have done for the racial climate in the city. Right now, there almost seems to be a sharp divide between those who live and are from New Haven and those who come here to learn. Students fear being robbed. Locals express and animosity toward the "Yalies" who "act like they own the city." That's just what I've heard.
An amazing thing happens when a child can see someone like them, related to them or close to them attain a seemingly unreachable goal-- Hope. They begin to invest hope in their own future. Right now, politicians, activist, community leaders, even Bill Cosby are trying to find a way to inspire young people in the Elm City. How easy it could have been. On the other hand we could still be facing a similar crisis in the city. But, may you would have to go so far to find someone to inspire and teach our children. Today, some of our youth are viewing Yale University as an unobtainable goal.
Simeon Jocelyn's response in the New Haven Advertiser
The New York Journal of Commerce write on September 15th:




"We are afraid that just at that moment, a little of the leaven of Old Adam crept into the sentiments of the meeting, and their anxiety to protect themselves from the disgrace of having an African College in their city, they forgot that a mere difference in color does not exclude any portion of mankind from the privileges of human beings. Men complain of the ignorance and vice of the colored population, and yet when a project is presented to rescue them, or a part of them, from their deep degradation, the same men are round at once to the highest pitch of opposition."
You might be asking who was on the committee against the Negro College?




David Daggett (Yale 1783) was at the time Yale's only Professor of Law. In 1831 he was Associate Justice of Connecticut's Superior Court, and the next year would be appointed Chief Justice of Connecticut's Supreme Court. He was also a two term Mayor of New Haven.
I. H. Townsend (Yale 1822, MA 1825) took over the leadership of Yale's Law School (1842-7)

Nathan Smith (Yale M.A. Hon 1808) was serving as prosecuting Attorney for New Haven County (1817-1835), and had been U.S. Attorney for Connecticut in 1828. He would be elected to the U.S. Senate in 1832.109

R. I. Ingersoll (Yale 1808) was New Haven's Representative to the U.S. Congress, a former mayor. Ingersoll would later represent the Spanish Crown in the Amistad affair.

Dennis Kimberly (Yale 1812) was Mayor of New Haven, and practiced law in New Haven.

S J. Hitchcock (Yale 1809) is considered one of the founders of the Yale Law School, together with David Daggett.
Augustus Street (Yale 1812) was a wealthy New Haven merchant and a major Yale donor, after whom is named "Street Hall," at the corner of Chapel & High Streets.

Judge [William] Bristol (Yale 1798) was a federal judge of the District Court of Connecticut and a former New Haven Mayor.

Judge [Simeon] Baldwin (Yale 1781) was a retired judge of the Connecticut Supreme Court. He had also served as U.S. Congressman (1803-1805), and as Mayor of New Haven (1826) [TG6].

Dr. Punderson (Yale 1804) practiced medicine in New Haven.

Jehiel Forbes, Samuel Wadsworth, and John Durrie
Maybe their concerns were legitimate, but its clear that the city would never again see an interest or be targeted for such a college. This fight against the Negro College just became a blip on the map of the city and state's history often overshadowed by the "Amistad Affair."
From the Liberator, a Sonnet
On Reading an account of the disgraceful Proceeding at New Haven, relative to the Afric-American College



New Haven, thou has rashly done a deed,

which shrouds thy glory in a black eclipse;

and paleness se'tles on fair Freedom's lips;

The friend, yet, strange to tell, the foe of light

Preceptor of the age, yet dost deny

To brethren-- countrymen-- the common right

Their empty minds with knowledge to supply;

Encourager of learning-- science- arts

Yet hostile to a race who fain would learn;

When from the dusk a sable brother starts,

Suffering thy cheeks with angry fire to burn;

Would I might give the honors of Old Yale,

To blot from history's page this most disgraced tale.

signed G---N
There is still more I want to know about what happen back then. It's going to take a couple of trips to the actual library and maybe the city records departments.